Why dad's double life spells long-term distress for the teenagers involved
9 March 2018 | Written by Jones Myers
As the 'Bliss' TV series of a dad's double life hurtles toward the inevitable conclusion of him being found out, it is important to consider the far-reaching repercussions on the teenagers involved.
In the fictional comedy Andrew, a travel writer, frantically splits his time between wife Kim and their teenage daughter Christina and wife Denise and their teenage son Kris.
Andrew's overarching aim is to protect the two families he genuinely cherishes, but in reality the distress and trauma experienced by Christina and Kris when the truth is unravelled could be long lasting.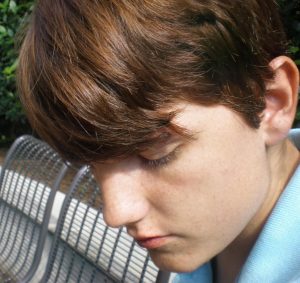 Casting aside the themes of bigamy and a near close shave when Christina and Kris almost dated, the teenagers emotional turmoil would include trying to come to terms with having a half sister and brother.
Siblings who are made aware of each other's existence in their formative years experience wide-ranging emotions. In this particular scenario the teenagers may be bewildered why their father was a 'part time dad' and hurt and angry at the realisation they've been sharing him with another family. In many cases children and young people blame themselves for the situation.
In circumstances like this when Andrew's duplicity is doomed for disaster, Christina and Kris could also be caught in the crossfire of their respective mothers' anguish and heartache on discovering Andrew's infidelity and litany of lies over the last 15 years.
Such damaging behaviour can affect youngsters' mental health and the development of their social and emotional skills and academic achievements. It can also influence their ability to form future relationships.
When considering divorce or separation, the key concern for most parents is their children's welfare, which includes their living arrangements, financial provision, schooling and holidays.
Jones Myers family lawyers put children at the heart of family law and our skilled Leeds, Harrogate and London based specialists are adept at dealing with all aspects of Children Law including residence, contact, relocation, child protection, special guardianship applications, international child abduction and adoption.
We wholeheartedly understand that our guidance is given from the sanctuary of our office as opposed to emotionally charged backdrops which parents deal with daily when coping with their children and managing contact arrangements.
For more information about children's issues, divorce or any aspect of family law, call Jones Myers at our Leeds office on 0113 246 0055, our Harrogate office on 01423 276104, visit www.jonesmyers.co.uk, email info@jonesmyers.co.uk or tweet us @helpwithdivorce