Divorce figures down but more cohabitants breaking up: the real story behind the statistics
27 September 2018 | Written by Jones Myers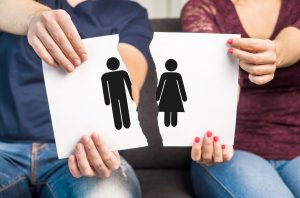 By Peter Jones, founder
While not wishing to deflate buoyant reports on how divorce rates for newlyweds and couples who've been married for five years have plummeted – the drop, while welcome, is also attributable to fewer people tying the knot.
What does concern me is that non-married partners account for half of the breakups amongst cohabiting couples – with numbers further increasing among those who are less well off.Married couples and partners living together are subject to exactly the same challenges and pressures in their family and personal lives. This however, is where the similarities end.
While married couples who split up are entitled to protection in critical areas such as savings, income, pensions or business interests, cohabiting couples have no rights should they separate.
With many cohabitating couples mistakenly believing they have the same protection as married people, it is vital that they know what measures to take to protect themselves.
We always recommend a cohabitation ('living together') agreement, to record who owns what at the outset. It encourages people to think clearly about what they want to happen – not only while they live together, but also if their relationship ends.
The agreement sets out how property is divided along with personal belongings, savings, pensions and other assets should couples part. It establishes how children will be supported, how to deal with bank accounts, debts and joint purchases such as a car along with matters including pets.
The protection of children is the one area where there is equal treatment under the law. Sons and daughters of unmarried parents have the same rights to financial support as those of married couples. The Child Maintenance Service (CMS) is responsible for assessing and enforcing maintenance. However, where a parent's income exceeds the CMS's jurisdiction, the other can apply to the family court to increase payments.
It is important that each party seeks independent legal advice and discloses all financial information in the lead up to signing the agreement, which should be reviewed regularly.
The agreement can be drafted either prior to or during the time couples are together. It can also be amended, as long as both parties agree that the original agreement should be changed – and in what way.
We witness all too often the devastation of unmarried partners who leave a long-standing relationship with little more than the clothes they are wearing and regret not knowing that they could have protected their property, assets – and their future.
For information about cohabitation agreements, or any aspect of family or children law, call our Leeds office on 0113 246 0055, our Harrogate office on 01423 276104, visit www.jonesmyers.co.uk, email info@jonesmyers.co.uk or tweet us @helpwithdivorce