Domestic Violence Services in Leeds, Harrogate and York
2 April 2020 | Written by Jones Myers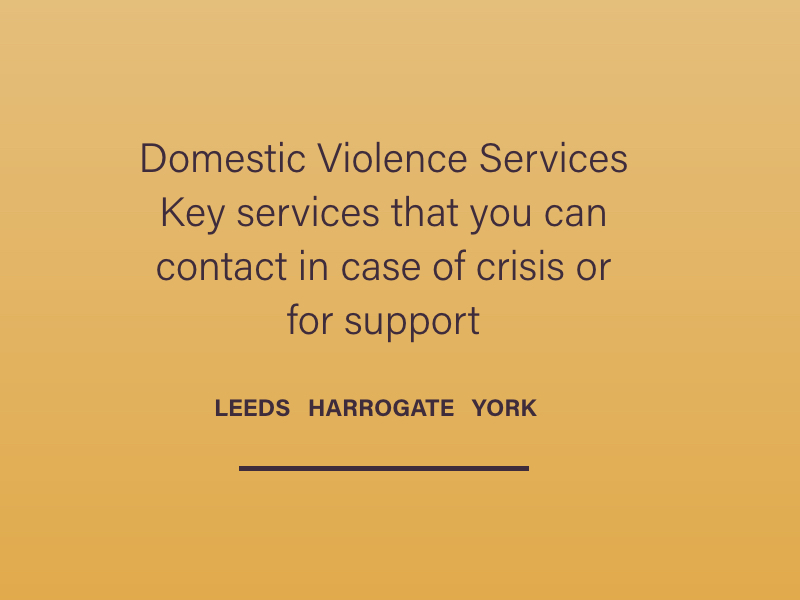 As the coronavirus lockdown continues, Jones Myers skilled and sensitive family law specialists continue to help victims of domestic violence and abuse, or threatened violence, to protect themselves, their children and loved ones.
We have published guidelines from a campaign called The Silent Solution system – launched by the Independent Office for Police Conduct and supported by Women's Aid – to enable a 999 mobile caller who is too scared to make a noise, or speak, to press 55 when prompted – to inform police they are in a genuine emergency.
The following is a list of domestic violence services that you can contact in case of crisis or for support:
Leeds Domestic Violence Service – https://ldvs.uk/
Combines Leeds Women's Aid, Behind Closed Doors and Women's Health Matters
24 hour helpline – 0113 246 0401
Leeds Women's Aid refuges remain open
Support services through the Community Domestic Violence Team operating by telephone/FaceTime
Independent Domestic Violence Advocates still working and meeting face-to-face if necessary, conducting risk analysis on a case by case basis
Leeds Survivor-Led Crisis Service – Dial House
Support via telephone and Zoom 6pm-2am : 0808 800 1212 or 0113 260 9328 or by text 07922 249452
Email: Survivor.led@lslcs.org.uk
Support After Rape and Sexual Violence Leeds
Remote support available by text and email 12-2pm Tuesday – Thursday Telephone: 07860022880
Email: support@sarsvl.org.uk
Together Women Project
One to one telephone support with key workers 9-5 daily
Bradford: 01274 301470
Leeds: 0113 3808900
Hull: 01482 218125
Sheffield: 0114 275 8282
IDAS
Extended live-chat service 3pm-6pm Monday to Friday
(Dedicated chat for professionals, agencies and workers 10-12pm weekdays)
Online video support sessions, WhatsApp, telephone calls and email info@idas.org.uk
03000 110 110 (North Yorkshire and Barnsley)
0808 808 2241 (Sheffield)
01904 646630 (York Refuge)
01904 646636 (York Outreach)
Supporting Victims – North Yorkshire – Telephone: 01609 643100
Open 9am-5pm weekdays
help@suportingvictims.org https://www.supportingvictims.org/help/
Refuge – guidance on how to secure your technology against hacking and tracking at https://www.refuge.org.uk/our-work/forms-of-violence-and-abuse/tech-abuse-2/resources/
The National Domestic Abuse Helpline available 24/7 0808 2000 247 www.nationaldahelpline.org.uk
National Men's Advice Line – 0808 801 0327
Make Yourself Heard – Silent Solution Guide when calling 999
For use when calling from a mobile only but unable to speak to the operator
Emergency Texts to 999
Allows users to send a text in an emergency rather than call 999 to speak to an operator. Text 'register' to 999 to sign up, must be registered to use.
https://northyorkshire.police.uk/contact/emergency-sms-text-service/
Advice from North Yorkshire Police safety planning https://northyorkshire.police.uk/what-we-do/tackling-crime/crimes-against-the-person/domestic-abuse/police-promote-support-available-for-those-in-isolation-with-an-abusive-partner/safety-steps-you-can-take/
•If it is an emergency and are at risk of harm – call the police on 999. If you are unable or too afraid to speak, you can use the Silent Solution system by pressing 55 when prompted by the call handler. Read more about this system and how to use it here.
•Think about safe spaces at home where you can take refuge. Try to avoid anywhere such as the kitchen or garage where there may be items which could be used against you. Is there a room where you can quickly and easily exit from, or a garden space you can take refuge in?
•Keep a mobile phone charged and at hand, so you can summon help quickly.
•Agree a time with a friend or neighbour that you will contact them each day, so you can keep in touch with someone and let them know you are ok.
•Agree a code word that you can text or use in a call with a friend or neighbour to raise an alarm so they can call the police for you.
•Speak to your children about where they can go to keep safe. Explain that they need to get to safety first and then raise the alarm. Getting involved in the situation may put them at risk of harm.
•Form an escape plan from the house and consider deciding a trigger word with your children that you can use to indicate to them when it's time to leave the house. If you do need to leave the house and you are approached by the police, explain to them why you had to leave so they can help and safeguard you.
•If you can, keep bank cards or some cash and house or car keys in a safe and accessible place, in case you need to grab them in a rush.
•If you cannot leave – try to get to a room with a lock and call the police immediately.
Victims of violence or threatened violence seeking urgent legal advice can contact Jones Myers in the strictest confidence to discuss all the options available. Options include court applications for an injunction – to protect victims and any children and/or orders barring abusers from the family home.
The protection the court offers is available to married, divorced, cohabiting and former cohabiting couples – as well as those in civil partnerships.
Call us at Leeds on 0113 246 0055, Harrogate on 01423 276104, or York on 01904 202550. Visit www.jonesmyers.co.uk, email info@jonesmyers.co.uk or tweet us @helpwithdivorce