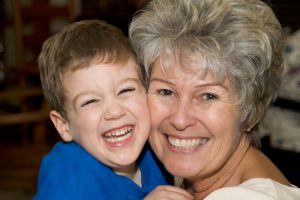 'Grandma we love you': The vital role of grandparents during divorce
6 February 2018 | Written by Jones Myers
Divorce frequently results in family members taking on different or wider roles – arguably none more so than grandparents.
Often regarded as a vital, reliable source of stability, grandparents can provide much-needed emotional and practical support at a time of upheaval and uncertainty.
As a part of the family, but one step removed from the turmoil of the relationship breakdown, grandparents are in a unique position. They can provide a valuable listening ear to their divorced child and grandchildren, who are likely to be confused, angry or upset.
Providing a safe space, away from the heat of the break-up, it's not unusual for grandparents to feel torn between warring partners – especially when their grandchildren are involved.
Whilst it's only natural for a grandparent to be protective of his or her own child, we always advise that they do their best to avoid increase animosity towards the other parent during what is a very difficult time for all family members.
If children know a grandparent is not going to judge, they may feel more able to confide in them. Equally, if they hear them criticising either parent, they may be reluctant to speak to them for fear of 'taking sides'.
The role of grandparents, particularly in the early days of a divorce, can be instrumental in sustaining their grandchildren's critical routines – as well as supporting their son or daughter both practically and emotionally.
Here are some handy hints on how they can grandparents support their children and grandchildren after a breakup:
Do:
Be careful to provide breathing space and allow others to provide assistance
Respect the confidence of your grandchildren – they may find it easier to talk to you
Help out by looking after your grandchildren, as your child will be feeling emotionally and physically drained – assisting with domestic chores and childcare can be a huge help, especially shortly after separation
Be careful about giving advice, unless this is something you have been asked for – your perception of events, however valid, will be different
Don't:
Give advice unless your son or daughter asks you specifically for your help – you won't see events in the same way as them, even though your views may be valid
Criticise your son-in-law or daughter-in-law to the grandchildren
Give advice unless your son or daughter asks you for this – even though your views may be valid, you will not be seeing events in the same way as them
For more information about the divorce process or any aspect of family law, call Jones Myers at our Leeds office on 0113 246 0055, our Harrogate office on 01423 276104, visit www.jonesmyers.co.uk, email info@jonesmyers.co.uk or tweet us @helpwithdivorce