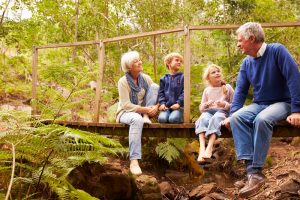 Why grandparents should not be taken for granted
5 October 2018 | Written by Jones Myers
Cakes, candles and celebrations are hopefully on the cards for many families looking forward to making Grandparents Day very special this Sunday.
The annual day is designed to acknowledge and thank nanas and granddads for the formative role they play in their grandchildren's lives as carers and role models.Modern day demands with parents juggling work and home life see grandparents relied on more than ever to take on responsibilities including childcare, babysitting and caring for grandchildren when they are ill. They also frequently accompany families on holidays.
The dynamics of family's relationships change when children are born and it's important that grandparents are not taken for granted.
In our experience their role takes on an even greater importance during divorce when their homes can become a stable haven away from the stresses and strains of their parents' separation.
Providing a sense of normality, grandparents sustain grandchildren's daily routines, particularly in the early days of divorce, and support their own children practically and emotionally. .
Sadly many lose contact with their grandchildren following their children's divorce. As they do not have legal rights to custody or visitation or custody, many are forced to apply for "leave" or permission from the Family Court to see their grandchildren.
Jones Myers is supporting a campaign that would change the current law and give children a right to a close relationship with extended family members such as grandparents, aunts and uncles.
If successful, grandparents would no longer have to make a "leave"/permission application which can be protracted, stressful and financially prohibitive.
In the meantime, we hope that grandparents everywhere enjoy a happy and loving Grandparents Day which provides long-lasting memories for all the family.
For more information about grandchildren, divorce or family law issues, call Jones Myers at our Leeds office on 0113 246 0055, our Harrogate office on 01423 276104, visit www.jonesmyers.co.uk, email info@jonesmyers.co.uk or tweet us @helpwithdivorce