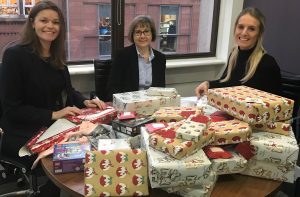 Why we're helping to spread Christmas charity cheer
19 December 2018 | Written by Jones Myers
Our Leeds and Harrogate offices are festooned with gifts to help light up Christmas for families who have been victims of domestic abuse and are now living in a local refuge.
Around twenty of our team pulled out the stops to provide presents for mothers and children who are supported by our partner IDAS.
The organisation is Yorkshire's largest specialist charity whose services include refuge accommodation, community-based support, peer mentoring, group work and access to a free, confidential out-of-hours helpline.
The gifts include vouchers, food and confectionary along with seasonal parcels for children.IDAS business development manager, Rose Merritt, said: "Domestic abuse can intensity over the festive period which can be a challenging time for victims. Many people will have suffered financial abuse and may have little access to money – making this expensive time of year very difficult.
"Thanks to the support and generosity of firms like Jones Myers, the victims we support can relax a little and have a few treats at Christmas."
During their stay at the refuges, IDAS helps families to overcome the effects of abuse and assists them with benefits, schools, legal issues and housing. Male victims are also supported in self-contained flats or houses in locations including Harrogate.
Jones Myers partnership with IDAS saw us host a pioneering art installation 'In Her Shoes' highlighting domestic abuse against women. The display features 100 pair of shoes to symbolically represent the 100 plus women killed every year in the UK by their current or ex-partners.
Created by visual artist Mim Robson, the installation's centrepiece comprises a poem by poet Hannah Davies which was inspired by the words of domestic abuse and sexual violence survivors.
The installation, which has toured York Minster, Northallerton, Skipton and the Jones Myers Harrogate office at Windsor House, will be extended o more towns and cities in the New Year.
Each year IDAS (www.idas.org.uk) receives over 5,000 calls to its confidential helpline and provides direct support to more than 7,000 people.
For information about any aspect of family law, call Jones Myers at our Leeds office on 0113 246 0055, our Harrogate office on 01423 276104, visit www.jonesmyers.co.uk, email info@jonesmyers.co.uk or tweet us @helpwithdivorce.