Highly experienced family lawyer fuels our Harrogate expansion
26 February 2019 | Written by Jones Myers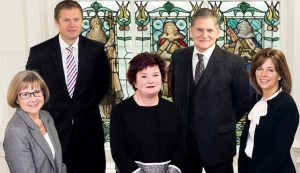 Our Leeds and Harrogate niche family law firm has appointed a highly experienced family law solicitor to join our growing Harrogate team.
Rachel Baul's specialisms include high net worth financial cases involving business and trust assets in the UK and overseas.Regularly representing sports professionals and members of the medical profession, Rachel's extensive expertise includes pension assets and drafting cohabitation and pre-nuptial/post-nuptial agreements involving significant assets.
A former president of Harrogate & District Law Society, Rachel is based at our Harrogate office at Windsor House which opened in 2017 to accommodate an increase in instructions from North Yorkshire clients.
Jones Myers director Richard Peaker, who is acknowledged by the Chambers and Legal 500 guides as a leading solicitor in his field, said: "Rachel is a well-respected family lawyer whose depth and breadth of experience across more than two decades spans sectors including farming, agricultural and sport. We warmly welcome her and wish her continued success."
Commented Rachel: "Jones Myers has an outstanding reputation for excellence and it's   tremendous to be working with a team which includes a Deputy District Judge, a Family Law Arbitrator, a chair of Resolution's Specialist Accreditation Scheme and two collaborative solicitors."
In 2018 we marked a double milestone by retaining our joint number 1 ranking in Chambers and The Legal 500 guides for over two decades. We were also ranked in the eprivate client Top Family Law Firms 2018 guide, which is regarded as the definitive publication featuring leading providers of advice in key areas such as divorce and child protection.
The first firm of our kind to launch in Leeds, our family lawyers jointly combine 270 years' experience.
Contact us for an initial no cost meeting by calling our Leeds office on 0113 246 0055, our Harrogate office on 01423 276104, visit www.jonesmyers.co.uk, email info@jonesmyers.co.uk or tweet us @helpwithdivorce