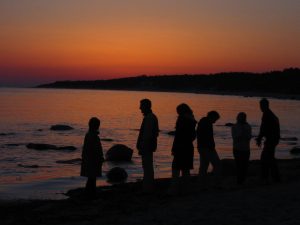 How to avoid relationships going into meltdown as temperatures soar
21 August 2018 | Written by Jones Myers
The prolonged summer heatwaves can exacerbate daily work and family pressures and have a detrimental effect on relationships.
Adults find it difficult enough to keep an even keel in the searing humidity which also makes children more fractious.
Here's some tips on how to enjoy and make the make the most of your time together as a couple or family:Take time out
It's vital to recharge your batteries and make time to reconnect with your partner, spouse and children. Spending quality time together and getting away from the chores does not have to be expensive. It can involve taking a picnic to the country or the beach or even your own garden, playing games and talking to each other.
Don't take work on holiday
If you are going away – whether in the UK or abroad – leave your iPad and laptop at home. Working will take the focus off your family and partner and can also cause resentment if they feel neglected. Giving your mind a rest is as important as giving your body one and continuing to work will prevent you relaxing and switching off completely.
Keep hydrated
Keeping hydrated is particularly crucial in the current heatwave so ensure you all drink plenty of cold water and keep children cool.
Get active
There's nothing better to get the endorphins going than a fun game of rounders, football or a walk to lower pulse rates and blood pressure. It will give you all the 'feelgood factor' and is great for the heart, head and wallet.
Doing the above will reenergise and refresh you – so you can remember this exceptionally hot summer with fondness as the cold nights draw in and you start to hanker for the heat and the glorious sunsets!
For more information about divorce and finances, family or children law or Contentious Trusts and Estates, call Jones Myers at our Leeds office on 0113 246 0055, our Harrogate office on 01423 276104, visit www.jonesmyers.co.uk, email info@jonesmyers.co.uk or tweet us @helpwithdivorce