How we're boosting festive cheer for disabled art makers
17 December 2022 | Written by Jones Myers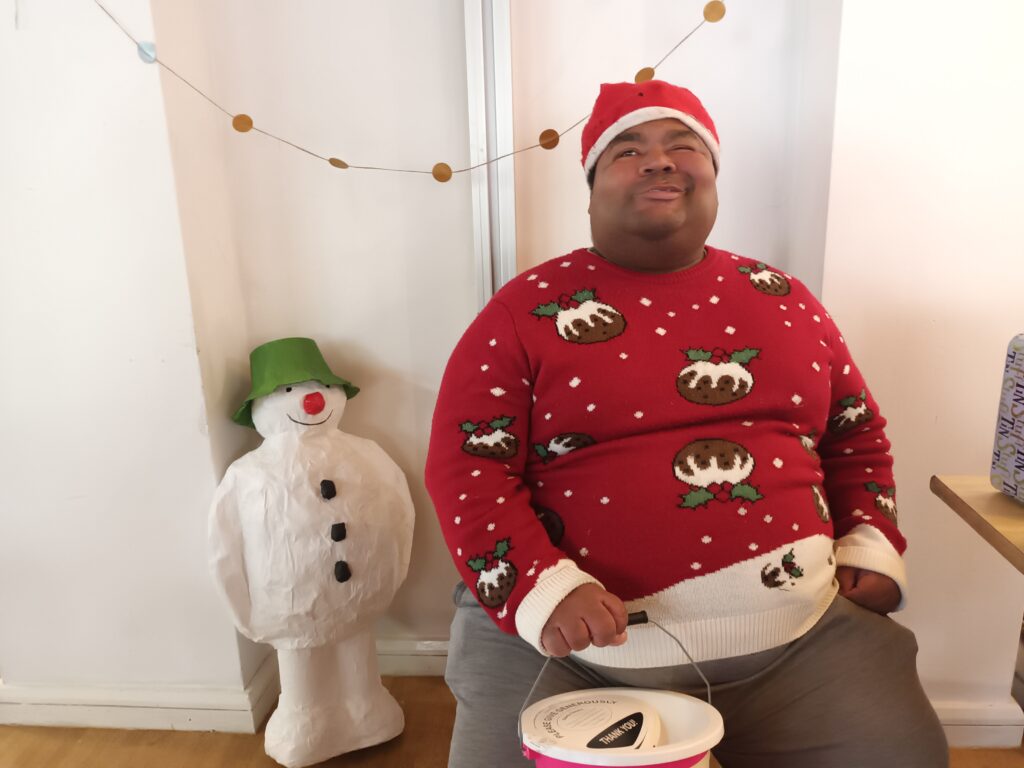 Our niche family law firm is giving a seasonal boost to an inspirational charity which enhances the quality of life for people with sight loss and a wide range of other disabilities – and encourages them to go beyond expectations.
Jones Myers is supporting Henshaws '12 Days of Giving' Christmas Campaign which provides key materials for its Art Makers to continue practicing their talents to achieve their potential through workshops.
Our specialist family lawyers have seen at first hand, and been impressed by, the Art Makers' creativity at the Knaresborough Arts & Crafts Centre which is open to the public on weekdays year round.
Their wide-ranging and colourful workshops include woodwork, pottery, music, performing arts, horticulture, performing arts and multi-sensory.
Gemma Young, Henshaws Fundraising Development Manager, said: "It's wonderful to have Jones Myers backing for our '12 Days of Giving' campaign and we look forward to a long and successful partnership with the firm.
"Our Art Makers draw on their talents to transform their own lives and help break down barriers and change perceptions over how society reacts to, and perceives, their disabilities. Our £12,000 fundraising campaign is for the annual costs of workshop materials which bring their creations to life.
"We very much appreciate the backing of Jones Myers and other local businesses, organisations, and individuals who are helping us to achieve our goals."
Jones Myers Senior Solicitor, Neil Dring, who heads our Harrogate office, is also assisting the charity as a volunteer. Neil will be putting his gardening talents into use at the Arts & Crafts Centre's gardens in the New Year.
Jones Myers Partner, Andrew Fox, said: "We were bowled over by the commitment of Henshaws to empower those with wide-ranging disabilities, and by the passion and talent of the Art Makers.
"The charity's values chime with our firm's long-standing ethos of giving back to our local communities and we're pleased to help make a difference and enable the Art Makers to continue to fulfil and express their potential through their beautiful and unique pieces of art."
Henshaws supports over 7,000 service users. They include people who are registered blind or disabled and young people with profound and multiple learning difficulties, sensory impairments, and other physical disabilities.
The charity's support, advice and training enable people and their families to build skills, develop confidence, help each other, and look forward to a more positive future.
For more information on the Arts & Crafts Centre, visit https://www.henshaws.org.uk/what-we-offer/arts-crafts/ Twitter @Henshaws Facebook/Henshaws
For divorce or family law related issues including children, call us at Leeds on 0113 246 0055, Harrogate on 01423 276104, or York on 01904 202550. Visit www.jonesmyers.co.uk, email info@jonesmyers.co.uk or tweet us @helpwithdivorce
Jones Myers blog is ranked 9th in the UK's Best 25 family law blogs and websites to follow in 2022.