Jones Myers hosts unique art installation tribute to domestic abuse victims
9 November 2018 | Written by Jones Myers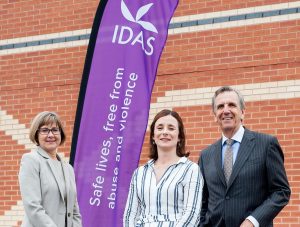 Jones Myers is partnering with IDAS (Independent Domestic Abuse Services) to host a powerful and emotional art installation highlighting domestic abuse against women.
Marking the UN's International Day for the Elimination of Violence against Women, the display, 'In Her Shoes' features 100 pair of shoes which symbolically represent the 100 plus women who are killed every year in the UK by their current or ex-partners.Jones Myers has donated shoes to support the art installation spearheaded by IDAS, the largest specialist charity in Yorkshire whose services include refuge accommodation, community-based support, peer mentoring, group work and access to a free, confidential out-of-hours helpline.
Jones Myers founder, Peter Jones, says: "As a specialist family law firm which witnesses the devastating effects of domestic abuse on victims, we're keen to support this poignant and thought-provoking display which highlights the devastating impact of domestic abuse. We hope it will help to increase understanding and awareness of the issue."
The installation will be launched in the South Piazza at York Minster on Tuesday 27 November from 9.00am until 5.00pm.
Jones Myers, whose Harrogate office is located at Windsor House, will host the display which will be located on the left of the entrance when approaching the front door on Friday, 30 November from 11.30am-5pm. The firm is also providing home-made cakes in Windsor House reception from 1.45pm to boost funds for IDAS.
Rose Merritt, IDAS business development manager, adds: "In Her Shoes is about raising awareness of the scale of domestic abuse by sharing the sad reality that 100 women die at the hand of their partner or ex-partner every year, a figure that is not decreasing.
"IDAS is very grateful to Hannah Davies, Mim Robson and our sponsors Jones Myers for supporting this moving tribute to the women who have lost their lives this year, we hope that seeing In Her Shoes will motivate people to find out more about how they can be part of a solution to end Domestic Violence."
The installation will be displayed across a series of towns and cities across Yorkshire over the coming months. .
With over 40 years' experience, IDAS has been at the forefront of developing new services such as being the first organisation in the UK to develop a free online Live Chat support for survivors. For more information on IDAS visit idas.org.uk.
For information about any aspect of family law, call Jones Myers at our Leeds office on 0113 246 0055, our Harrogate office on 01423 276104, visit www.jonesmyers.co.uk, email info@jonesmyers.co.uk or tweet us @helpwithdivorce