Jones Myers retains esteemed Family Law Firm of the Year award
28 November 2021 | Written by Jones Myers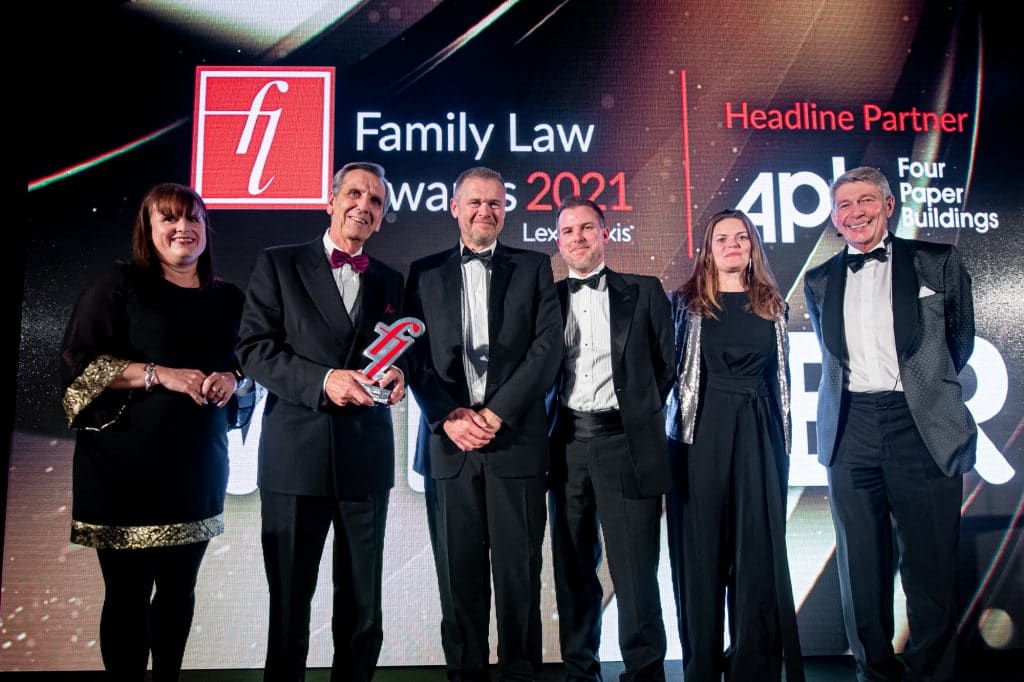 Jones Myers is delighted and honoured to retain the coveted Family Law Firm of the year North award for consistently delivering excellence in family law.
Judges of the Lexis Nexis Family Law Awards bestowed the title on our niche family law practice based on our lawyers' extensive expertise, our success in high profile cases as well as our pro bono initiatives and commitment to training and developing our employees.
Judges said: "The winner of this award is strong across all disciplines, providing innovative and creative solutions to the issues facing clients. They have a strong track record of growing and fostering talent in the firm, and assisting staff to transition, develop and rise through the ranks. Their commitment to pro bono work is also to be commended."
In a double celebration at the awards ceremony in London, our founder Peter Jones also clinched the prestigious John Cornwell award for his outstanding contribution to family law. The accolade is named after the late founder of family justice group Resolution which promotes dealing with relationship breakdowns in a constructive manner.
Jones Myers Managing Partner, Richard Peaker, said: "We are immensely proud and honoured to retain the Family Law Firm of the year North title for the second consecutive year and we warmly congratulate Peter for his well-deserved lifetime achievement honour.
"Our tremendous successes are attributable to the tireless dedication of our outstanding team to secure the best solutions for our valued clients. We also thank our referrers and partners for their support and role in our success. Well done to all the finalists and winners."
2021 has been a milestone year for Jones Myers which has consistently retained our top tier regional rankings in Chambers and Legal 500 for over two decades.
Our specialists include an in-house counsel, mediators, collaborative law experts, an arbitrator, the current national chair of Resolution's Specialist Accreditation Committee, a former national chair of Resolution – and an ex Deputy District Judge.
We are also receiving growing recognition for our extensive expertise in alternative dispute resolution processes – Mediation, Collaborative Law and Arbitration – which avoid a lengthy court process and can lead much more quickly and cost effectively to a successful resolution.
Commenting on Peter's lifetime achievement award, judges said: "This year's winner is an outstanding practitioner to whom the family law world owes a debt of gratitude.
"Their career has spanned four decades and they have achieved tremendous success, ensuring that the practice of family law has evolved at a pace not only just in the city but also in the regions. They have demonstrated a lifetime commitment to upholding and developing family law."
Peter, who founded Jones Myers as the first family law firm of its kind in Leeds in 1992, said: "This unprecedented double celebration re-enforces our firm's longstanding reputation as leaders in our field and for attracting the best family lawyers in our profession.
For queries on divorce or family law related issues, call us at Leeds on 0113 246 0055, Harrogate on 01423 276104, or York on 01904 202550. Visit www.jonesmyers.co.uk, email info@jonesmyers.co.uk or tweet us @helpwithdivorce