Liz's pedal power fuels fight to beat bowel cancer
31 August 2018 | Written by Jones Myers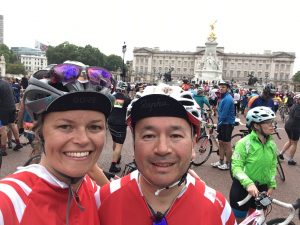 Sunday's will never be the same again for Jones Myers solicitor, Liz Bell, who undertook an ambitious 100 mile cycle challenge in relentless rain and winds to boost funds for Bowel Cancer UK.
Liz and her husband Julian set the wheels in motion for the Prudential Ride London-Surrey 100 event – a gruelling stretch from London to Surrey. Despite the adverse weather conditions, they successfully completed the course within the specified 8.5 hour time.The duo was among 30,000 cyclists from the UK and further afield who set off from Queen Elizabeth Olympic Park. From then the route climbs steeply up the Surrey Hills before descending into London through Wimbledon and finishing on the Mall.
The leg-testing climbs celebrates the legacy for cycling created by the London 2012 Olympic and Paralympic Games.
Says Liz: "Our interest in cycling started in 2015. We'd never undertaken an organised ride on such a scale before with a time limit and, being up for a challenge, we knew it would definitely stretch our legs! Despite the dreadful weather, groups of supporters cheered on cyclists along the route which was encouraging and appreciated."
To date Liz and Julian have jointly raised over £1,500 for Bowel Cancer UK, the UK's leading bowel cancer charity following its recent merger with Beating Bowel Cancer. The organisation seeks to improve the quality of life for all those affected and provides expert information and support to patients and their families.
Adds Liz: "Despite being drenched through, we were thankful to finish without incident and would like to thank all our family friends and work colleagues who have supported this very worthy cause to help beat bowel cancer which affects so many people of all ages."
Bowel Cancer UK campaigns for early diagnosis and access to best treatment and care and supports and funds research to improve early detection and treatment of the disease. It also works tirelessly to spread the word about symptoms, risk factors and bowel cancer screening.
For information on how you can support the charity, visit https://www.bowelcanceruk.org.uk/support-us/
For more information about divorce and finances, family or children law or Contentious Trusts and Estates, call Jones Myers at our Leeds office on 0113 246 0055, our Harrogate office on 01423 276104, visit www.jonesmyers.co.uk, email info@jonesmyers.co.uk or tweet us @helpwithdivorce