Taking the plunge, nerve racking injunctions and promoting best practice – meet our founder, Peter Jones
23 July 2018 | Written by Jones Myers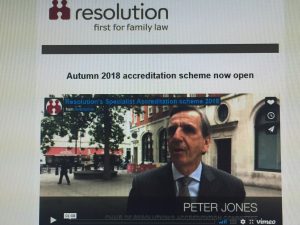 Peter Jones, one of the country's leading divorce lawyers, is involved in Resolution's campaign to promote the importance of accreditation. Here is an insight into his career and why he champions best practice.
Why did you set up Jones Myers as a specialist law practice in Leeds in 1992?
My passion for family law and a gut feeling that it was the right time to introduce it as a specialism. I strongly believed the days of "all rounders" was over and solicitors needed to accept they could not advise across increasingly complex developments in wide-ranging areas of law. Having always practiced in Leeds, I considered it to be the commercial centre of the North East which would enable me to develop the firm to its full potential.
You are acknowledged as one of the country's leading divorce lawyers – what are the most significant and/or complex cases you have dealt with?
One case involved obtaining an Anton Piller injunction (a court order enabling premises to be searched and evidence seized without prior warning) to raid a husband's office, and his accountant's office to remove all their files. Although nerve racking, the documents we obtained turned the case on its head and the value of our client's claim was successfully quadrupled. Another was resisting a claim made by an ex wife who sought maintenance 25 years after the divorce. It went to the Court of Appeal and became a precedent.  
Why do you think that Jones Myers has consistently retained its top tier regional ranking in the Chambers and Legal 500 guides for almost two decades?
Client care is one of our high priorities, as is finding solutions for client's problems and we're always seeking to improve. We have attracted some of the best family law lawyers and support staff – they really are quite exceptional.
A champion of raising standards in the profession, you are chair of Resolution's specialist accreditation committee – what does the role entail?
The committee oversees the academic development of specialist family lawyers. We monitor and evolve the examinations in specialist areas such as children, finance, pensions, international law.  My spectacularly dedicated and bright committee makes chairing the meetings a pleasure.
You are also presenting this Resolution video https://mailchi.mp/resolution/accreditation promoting the importance of accreditation – can you outline the benefits?
Members who are accredited demonstrate to fellow Resolution members, their colleagues and contacts that they are specialists. This reassures the public that the lawyer they instruct has excelled in achieving a higher academic and experienced status.
If you could change one thing about the legal profession, what would it be?
I would reintroduce the policy that the legal profession, the courts and access to justice need to be properly funded; it is impossible to run a Rolls-Royce service on a mini car budget.
How do you switch off outside work?
Enjoying a close family, a game of golf – and the occasional glass of Famous Grouse.
For more information about divorce, family or children law, call Jones Myers at our Leeds office on 0113 246 0055, our Harrogate office on 01423 276104, visit www.jonesmyers.co.uk, email info@jonesmyers.co.uk or tweet us @helpwithdivorce