Why we champion businesses who develop their employees
10 March 2023 | Written by Jones Myers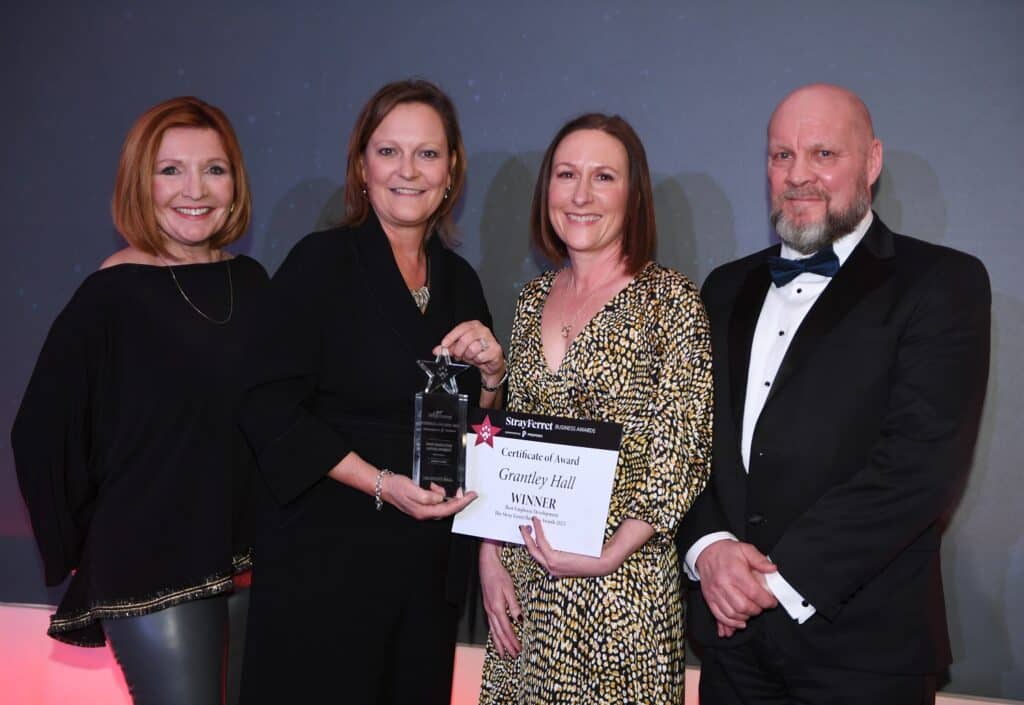 As a niche family law firm with a long-standing commitment to develop our valued teams and support the next generation, we're also delighted to champion businesses with the same values.
Jones Myers wide-ranging community initiatives include sponsoring the Best Employee Development category of The Stray Ferret Business Awards.
For this accolade, judges were seeking evidence of a business with a well-documented structure and an in-house implemented programme to develop employees, giving them the best start for a great career.
Enormous congratulations to the winner Grantley Hall – a luxury five-star hotel and wellness retreat near Ripon whose five-star staff development programme stood out with the judges.
Jones Myers Senior Solicitor, Neil Dring, who heads our Harrogate office, presented the award to the winner.
He said: "Grantley Hall is a worthy recipient. We wish its team along with the award finalists Continued Care and Howard Conrad continued success in their quest to enable their staff to be the best that they can be. As an established employer of three decades, sponsoring this accolade chimes with our firm's ethos."
Jones Myers is also partnering with Henshaws – an inspirational charity which enhances the quality of life for people with sight loss and a wide range of other disabilities – and encourages them to go beyond their expectations.
Henshaws supports over 7,000 service users. They include people who are registered blind or disabled and young people with profound and multiple learning difficulties, sensory impairments, and other physical disabilities.
We have been delighted to provide key materials for Henshaws Art Makers to continue practicing their talents and achieve their potential through workshops which include woodwork, pottery, music, performing arts and horticulture.
Next month we are also supporting the charity's forthcoming Beer Festival which takes place at its Arts and Crafts Centre in Knaresborough across April 28-30.
For divorce or family law related issues including children, call us at Leeds on 0113 246 0055, Harrogate on 01423 276104, or York on 01904 202550. Visit www.jonesmyers.co.uk, email info@jonesmyers.co.uk or tweet us @helpwithdivorce
Jones Myers blog is ranked 9th in the UK's Best 25 family law blogs and websites to follow in 2023.
Worthy winner: from left Clare Frisby, The Stray Ferret, Tracey Ratcliffe and Louise Helliwell from Grantley Hall and Jones Myers Senior Solicitor, Neil Dring.